Yellow Roses and The Music in my Head
December 19, 2017
Trees swaying in the breeze
Roses, the smell of your death as they grow in my brain.

Trees sway to the music that I play in my head to distract me from your pain.

The rose drops and the clock tick-tocks… time ran out for her, for you, for me.

The tree gave me hope that your roots and your love would hold me, would love me… but I gave up.

The rose painted yellow of the face I only see on my mom's favorite frame, of a woman loving jello.

I ask if I look like the rosiness of your face if the roots of the tree in my yard connect me to yours

The trees sway to the different music. I look at your picture interrupted by a tear, a hole created there.

Feelings of not knowing how I feel, or what to do. The fear of never seeing you in my rose garden.

Trees play in the music of the tune of great loss, a different song, but never a different tune.

The yellow roses planted in the ground, they are you, and they are beauty and nothing.

The roses have thorns like the memories, the ones I will never understand. I crave what I can't grasp.

The memories lie stuck of things told to me, about you, cleaned cut out fractions of your human frame.

Yellow roses have always been just black, a colorless frame to your picture just left black for me.

I look at your picture one more time; you hold my hand and pet my hair, like your daughter, my mom.

I hear your music in my head, pet my hair, I watch.
I see your face again in the rose I set on your grave.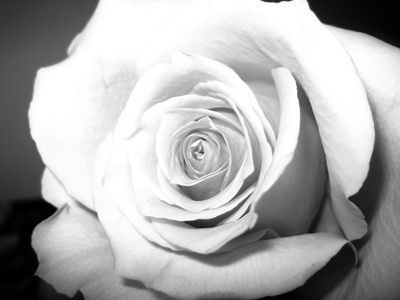 © Kimberly C., Houston, TX