Hemianopsia
December 19, 2017
Skin faded and grotesque,
drooping and stooping like melted candle wax.
One piercing blue eye staring forward,
the other glassed over in hemianopsia.
A twisted nose protrudes largely from a withered face.
Lips cracked and peppered with dried blood,
a constellation of crimson.
Crooked yellow teeth reside behind that wicked smile.
Bit of mangled tangled hair stick to her face as a single,
weathered nail peels it away.
The witch takes one creaking step forward,
shaking every artery and blood vessel in the body.
Robbing the air from lungs faster than a scream can sound.
Even the safety of a warm blanket is not enough to drown
her cackling.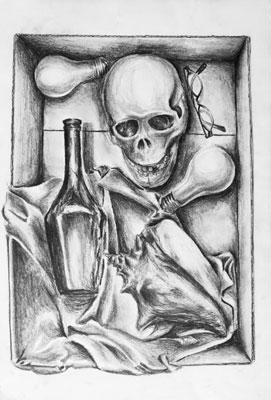 © Karen S., Norwalk, CT