Why I Won't Get Out Of Bed
December 19, 2017
Presentations seem so easy, just talking while you
stand, it's unfamiliar ground to me, like a snowman who
lives in sand.
I try to speak my loudest so everyone can hear, but
when all eyes are on me I'd like to run in fear.
When I do a presentation my eyes just start to tear,
my face becomes like cherries, I'm like a frightened
deer.
I'd rather not feel frozen, just standing in one place. But rather be at home where it's safe to make mistakes.
Daylight peeks around the corner, my stomach feeling
sick, doing a presentation is too much for me to take. 
People's eyes like fire, burning me alive, and if I
happened to survive today I'll probably make a lie.
I'll say it went with ease and I never lost my cool, but if
I go again my cool is what I'll lose. 
So, to avoid anything bad and the nightmares sure to come, I'll
stay in bed and sleep till the dawn of tomorrow comes.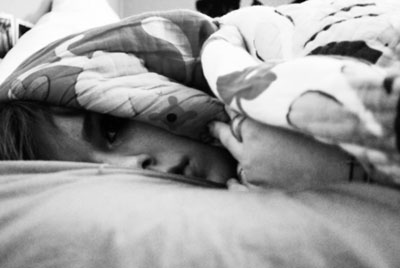 © Erin H., Carrollton, TX