Sweet Relif
December 21, 2017
In the dead of night in an ominously dark room,
she laid paralyzed in the bed.
No one around,
no one to care,
no one would ever know.
Her secret, now underground.
No longer terrified by the monster who hurt her.
Seventeen years of marriage,
Four children she bore,
And one scar that would forever burden her.
The bruises she had were as black as the night,
the lesions are deeper than the alleviation
she now felt that his decomposition had begun.
His cycle had no end,
It was constant pain, torture,and agony.
But no longer.
She would no longer hear his excuses,
feel his fists of fury,
or endure his humiliation.
"I've changed"
"Things will be different"
¨Baby it was a one time thing¨
He never changed,
he never would have anyways.
She felt the heartache throughout her mind, body, and soul,
though she knew the light at the end of the tunnel,
was illuminating brighter and brighter with each day.
What happened that day,
as he took his final sip of bourbon,
his nerves attacked, sodium channels opened, paralysis ensued,
shutting off the entire body,
succumbing to an untraceable toxin.
Heartbreak, anxiety, isolation,
and guilt,
all buried.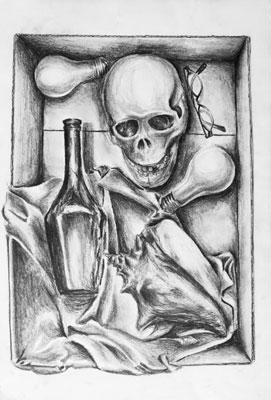 © Karen S., Norwalk, CT