The Party for Grandmother
December 20, 2017
France, 1988.
I was a small girl, wandering through the empty streets
Alone, with just my teddy bear.
The bear was a gift from grandmother,
A piece of her was always with me.
I walked inside a large, gray anonymous building
And was greeted by the warm hugs of those around.
Weaving through the people, I found flowers:
Roses, daisies, lilies.
They reminded me of grandmother:
The smell of her flower-filled house,
Or the garden where we spent endless summers.
I looked down at the necklace on my neck,
The one grandmother had given me.
It reminded me of grandmother:
The game of dress up we would play,
Or the fancy dinners we would attend together.
But did I really understand why I was there?
I was told that grandmother wasn't really there,
But rather in Heaven -
At the party in Heaven.
I miss grandmother
Like the sky misses the stars,
Or like the flowers miss the rain.
On my way home from the party
I lost my teddy bear,
Somewhere in the dark.
But I was not sad, because
I knew I would see him again.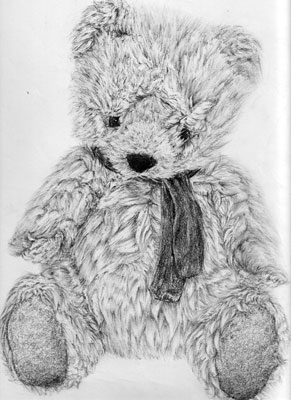 © Sarah F., Birmingham, United Kingdom