Wings of Color
December 15, 2017

Wings flutter through humid air.
Sky light shimmers,
through open-paned windows.
Thousands of species... fly.
Quiet wings make no sound.
Water droplets glisten on leaves,
temperatures bead sweat on foreheads.
Plants...become graciously green.
Legs traveling from warm bodies.
Suction cups attach—landing on finger tips,
wings of color visit cotton-clothed children.
Life flies and watches us grow.
Single butterfly...landing softly on my pink striped t-shirt.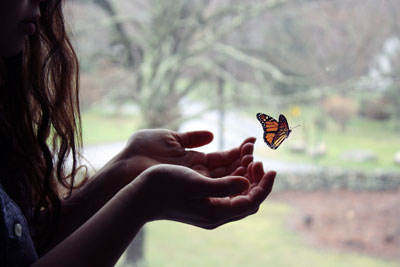 © Sandy H., Woodbridge, CT