Drawing
December 15, 2017
Drawing.
What is it? Drawing is a way of expression. Drawings can become masterpieces, or hot messes.
One can only choose what the outcome is.
Drawing has many terms. The terms sketch, detail, pencil, pressure, grip, shading, and final image have many meanings. But what are they?
Sketch.
It is the most basic form of what a creation in it.
Detail.
It is all of the things that give the art meaning, big or small.
Pencil.
This wondrous tool is the thing that enables the creativity to flow. Its purpose is to help make sense of things. It lets one figure out what is wanted and what missing.
Pressure and grip.
The grip on the pencil determines the pressure on the pencil. Too soft and it might be a sign of sadness. Too hard and it could mean anger is present. Just right is when there is total control of the pencil. Life very well may be pretty good.
Shading.
Shading allows emotions to be felt. A lot of shading could be that there is much thinking going on. Hardly any shading could mean that things don't have much of a purpose.
Final image.
After the piece of art is created it reflects one's life as a whole.
Is it all over the place with many independent things? Is it random and doesn't have much meaning to it at all? Or is it an easy to read picture that looks like something?
These are the kinds of things that lie deep within a drawing. Does it need a bit of detail and some color? Or does it need some sense and identity knocked out of it to simplify things?
Drawing.
It allows one to make a picture so they can see the bigger picture.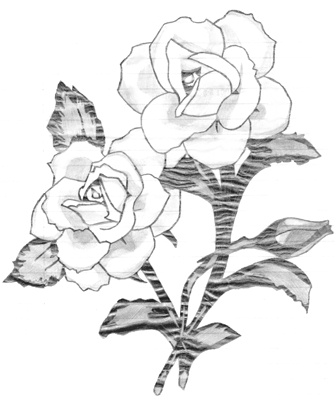 © Christy P., Providence, RI