Red Lipstick
December 14, 2017
You knocked on my door last week
and sprayed my husband with a green toy water gun.
Did you aim for his crotch or was that just an accident?
My red lipstick smeared on my teeth from laughing so much
but I just put it on and I still hate you.
Please don't bother picking up your daughter from school.
You'll probably forget anyways
and I don't want you to drive there drunk.
I remember when your rusted Porsche
would screech up to my house.
The left headlight was always shattered
a small shard of glass would always fall
and pop your tire.
I would jump in and we would leave quickly as possible
leaving black tire marks in my parent's drive-way.
I don't miss that
but what I miss were those long nights after.
When we drove into the hills
until we couldn't see the city from which we left.
We sat with the front seats reclined and searched
for stars that we could never see.
Something stupid would come out of my mouth
and you would joke in return and I would laugh.
We went on and on until my red lipstick would smear on my teeth
but I would've just put it on so I still hate you.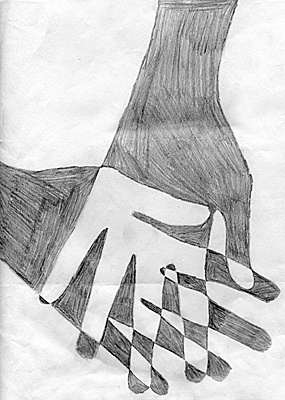 © Warlito B., Tamuning, GU