L O V E
December 18, 2017
"Look in the mirror, do you love what you see?" Says the little voice inside me.
"Let me rephrase that, do you fit the criteria that society puts on you?" The little voice whispers in my left ear, leaving me criticizing every little inch of my body reflecting off the mirror.
Continuing to stare at myself, I notice I've gained a little bit of weight. The little voice appears on the right side of me whispering, "wow, you really done it this time, Nicky. All the sweets you ate yesterday, I told you you would regret it. Remember, nobody is going to love you if you look like that, you fat pig." My eyes begIn to water without me even noticing. She's right, nobody is going to love me or every will.
The mirror reflects the fizzy, curly, untamed creature that is my hair. The little voice appears once again, above me pulling at my curls. "What ugly, dull, brown, curls." she claimed with much disgust laced with every word she spat. "Bleach it, people will love you if you do" she exclaimed. "Also, start straightening it, this is why people don't love you." She disappeared, taking a little piece of my confidence with her. I blink, causing on single tear to roll down my cheek. I don't even bother whipping it away. I just stare at the tear trickle down my face.
Nobody loves me for who I am, but how can I blame them, if I don't even love myself.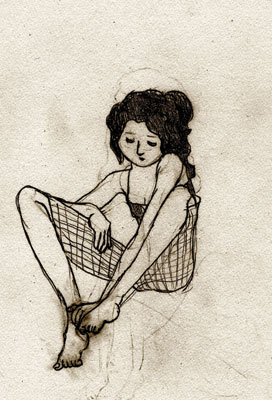 © Samantha W., Albany, NY