Adventuring the Streets of Old Milwaukee
December 12, 2017
Arrival...
I get off the bus into the city called Milwaukee,
filled with Germans, Canadians and French people.
So far, I am not impressed.
The buildings look gross, the people look rude and the sky looks dreamy.
Roaming...
I wander the streets because I have nothing else to do.
I find an antique cafe and head inside.
I smell coffee, cookies, and cupcakes.
The service is fast, which is unexpected.
Decisions…
Alright, I guess this place isn't that bad.
Once I take in the scenery, I see its beauty.
The people are considerate, charismatic and caring.
This city has a positive energy.
Friends…
I meet people at the cafe and we make plans for tonight.
We are going to Haymarket Candy Store down the street.
There, we buy one of each candy in that store.
We were up with sugar rushes, jittery and jumpy.
Home...
This city offers opportunities and experiences:
iron, paper, and beer, and
German, Canadian, and French culture on the street corners.
I think I just might stay a little longer.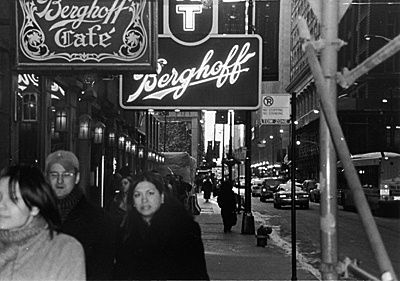 © Julie J., Mendham, NJ