Remember—Streets of Old Milwaukee
December 12, 2017
6:00 a.m.
I awake as the hazy fog arises
from the city's chimneys. 
The smell of fresh baked goods
drift towards my family's parlor.
At last, my Saturday starts
in the streets of Milwaukee.
10:00 a.m.
Before lunch, I run errands
at the local Sendik's.
Stained glass windows create a glow,
from Conrad Schmitt Studios.
My last errands are complete
with my last stop: the post office.
2:00 p.m.
The streets dance with colorful citizens,
like the candy at Haymarket shop.
Shouts fill the cobblestone street,
as the streetcar passes.
At last, I see my first film
at the Pastime Nickelodeon Theater.
6:00 p.m.
Mom's cooking fills the house with savory smells,
as Dad opens a Schlitz beer.
Lamplighters turn the dark streets
into a light runway. With each flicker,
at last, the night ends
and the hazy fog arises once more.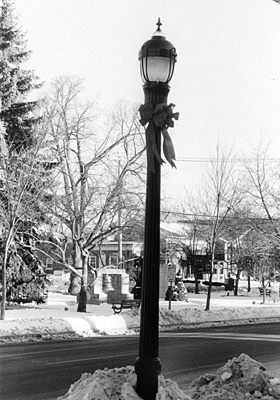 © Geoffrey D., Milford, CT