Infatuation
November 29, 2017
She was a disease.
A little nymph who had cast a spell on me.
Though I refused to accept this defeat for so long,
I now cannot breathe without acknowledging that
It is the same air she breathes.
She was the light in my dying eyes,
The very hope that so cruelly kept me alive.
As merciless as she was,
None can deny the beauty of her heart, her mind, her soul.
She murdered without knowing, but with my consent.
She tortured me day by day, and the real problem is
That I savored every moment of it.
My infatuation with her was unhinged.
Being the cautious being that I am,
I was so overwhelmed by her very existence.
Her voice shut out the boisterous clamor of the room from my ears,
And the sight of her made my palms sweat and knees quiver.
Whenever she smiled, I would either tremble at the very sight
Or become furious, if it was not me who caused her to smile.
She spoke to everyone else throughout the room, but not me.
I intended to keep my distance from such a lovely disease,
But, like a chill in the morning that takes you by surprise,
She apprehended me from my safe yet lonesome corner.
I had no choice but to submit.
I knew in my heart that
I was being led like a lamb to slaughter,
but I was so enticed that I was forced to follow obediently.
With her poisonous lips she kissed me,
And I fell so sweetly to my doom
Embracing that enchanting disease in my arms.
The nymph had so callously deceived me into believing her sweet innocence
That I write this with swollen eyes and a heavy heart.
I do regret my infatuation with her,
But I could never forget her,
Even if I tried.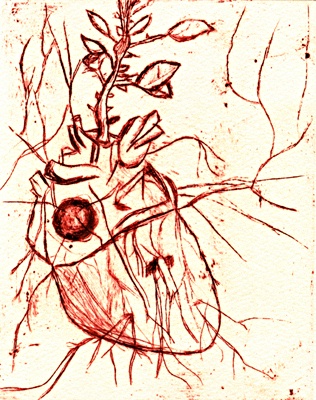 © Elaine S., Phoenix, AZ