On growing out of church playgrounds
November 29, 2017
And if you had told me in middle school,
that I would be editing newspaper layouts
on a Sunday,
with my fingers spread across my girlfriend's thigh
I would've laughed in your face.
Frizzy mess of curls tumbling on graphic teeshirt,
who prayed every night,
loyally memorized bible verses,
and wanted to be a lutheran school teacher
and write devotions or church lessons
more than she wanted to feel honest.
Big black glasses framing wide blue eyes,
who choked through class projects,
never read aloud,
and lived for grownups who called her respectful
and well-mannered or sweet,
more than she hoped to be heard.
Twiddling fingers chipping off neon nail polish,
who closed her eyes in the locker room,
told her short haired, snapback camp counselor,
she just wanted to "be her,"
and threw up in the bathroom after the lesson on marriage,
and idolized boys she'd never have to love or even meet,
more than she considered liking herself.
Scrawny, clumsy, mess of a kid,
who thought that writing was a job for liars,
who couldn't make eye contact to accept a compliment,
who begged at night for someone, anyone to help her
love the things she was supposed to.
And it is okay that we are not
who we thought we'd be,
when we slept with bibles under our pillows,
and our worlds were the size of a church playground.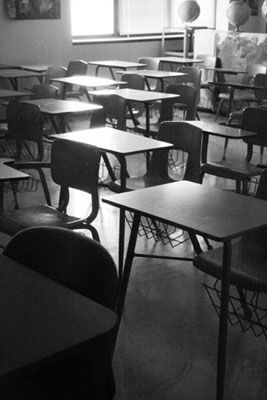 © Sean C., Princeton, IL