The Classics
November 28, 2017

When I see her, I see the classics reflecting in her eyes and personality.
I see beautiful brown hair, perfect curls and the impeccable way it falls around her face.
When I see her I see the perfect woman Austen wrote about,
The beautiful debutante in Gone With the Wind, the one every man wants on their arm.
Coming of age in a way akin to Holden in Catcher in the Rye.
She imagines wonderful adventures that she wants to go on like Tom Sawyer.
Adventures that Scout and Boo Radley would be proud of.
Her hazel eyes change color and reflect the ideas that are left unsaid.
I can see the stories flashing in her mind that she will later scribble in her journal.
The beauty that is both inner and outer.
Her amazing laugh, the kind that echoes around the room and causes everyone to look up.
She would fall for one of the tortured romantic heroes written by Emily Bronte.
She is just as strong as the women in Shakespeare's plays.
I see the elegant way she carries herself,
I can picture her governing a manor, hoop skirt and all.
Carrying a delicate lace parasol in her hand.
She is the archetype of all things beautiful.
I see everything I want to be.
But she is a rarity, unparalleled by anything else.
I see Aphrodite and Athena, beauty and wisdom in one person.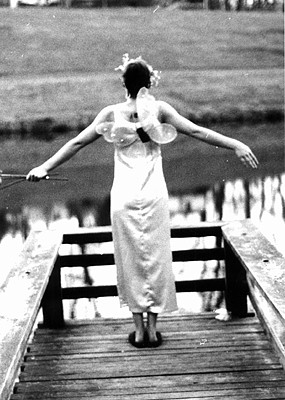 © Jessica T., Cincinatti, OH