Ash-Choked
November 9, 2017
Ash-choked carcasses of the twin towers,
in which thousands of people used to work on a weekday.
By 11 p.m., rescuers had been able to begin serious efforts
to locate and remove survivors.
"I have a sense it's a horrendous number of lives lost," said Mayor Rudolph W. Giuliani,
"Right now we have to focus on saving as many lives as possible."
Hijackers rammed jetliners into each of New York's World Trade Center towers,
toppling both in a hellish storm of ash, glass, smoke and leaping victims.
The scenes of horror were indelible, people who left from the broken towers,
people who fought for pay phones, people white with soot and red with blood.
Nobody immediately claimed responsibility for the attacks.
The very absence of the towers would become a symbol,
after their domination of the New York skyline for 25 years.
Many questions would also be raised about how hijackers managed to seize four jets,
with all the modern safeguards in place.
Apart from the major question of who was responsible,
questions were certain to be at the forefront in coming days and weeks.
One was the timing -- why Sept. 11?
In recent years, the complex has filled up with tenants
and revenues have increased.
The complex included four other buildings, two of which were also gone,
for a total of 12 million square feet of rentable office space.
In the aftermath of the worst and most audacious terror attack in American history.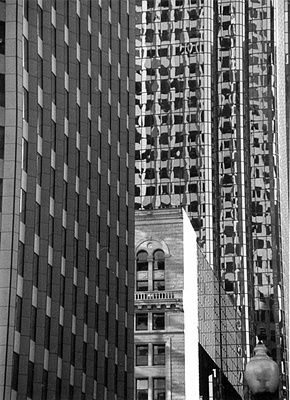 © Natalie D.,Marblehead, MA