A Voice
November 8, 2017
A noise, a sound, a voice crashing through the air waves.
A tsunami bombarding my eardrums, as I wave goodbye to my sanity with every utterance that flows from my mouth.
From all the speeches in the world, "to be or not to be" all I seem to be, I remember only one.
The philosophy of your morality, the integrity of your exclamation.
Dealing Statements on street corners, pulling lyrical triggers, blasting through my flesh, a vicious attempt  at peacekeeping.
All your words assigned a solid sense of self-loathing.
The hopeful mutters,ambush, entraps, imprisons. Encased in plastic baggies dealt to all that will pay enough.
Swallowing down the insecure sense of unjustified security. Pretending that the world isn't blurry, unseen, and unsure.
Suddenly seeing colors,the physicality of the remark. A simple statement  bombards my body.
My ribs crack. Lungs struggling to expand. Craving every minuscule molecule.
Until my death rattle becomes nothing but pointless air.
Nothing but a shallow gust burning through my fluctuating stasis.
Television shows how this is supposed to go, but my legs should not quake under me.
My eyes should not burn at the pain of unshed tears.
My smile should not become my chosen battle mask, struggling to take hold of my face.
To brighten my eyes , wrestling to keep my cheeks rosy.
This base reaction purely to subdue your self-authenticating entitlement.
The silence that follows.  A void of sound. A void of feeling. Screams so loud, pleading for a pin to crash to the floor.
My heart leaps to my throat.
A voice, a statement, a proclamation of love.
What is love? A word that can be thrown around, buzzing back and forth equipped with a poisonous sting.
Flying from one flower to the next, sucking the nectar out of life in the most beautiful way.
The honey that is so sweet and yet so sticky trapping humanity in its grasp.
I wash it away, but you leak into my bloodstream. Following the swell of my chills to my heart.
So what is love?
The magical suffering of an individual.
Perfectly justified, simply unsuitable.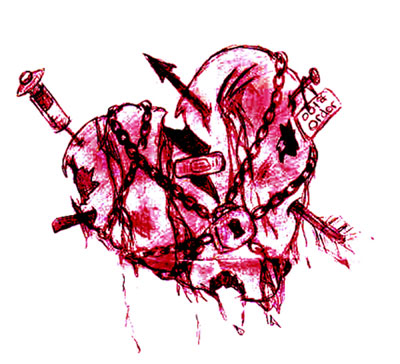 © Asia B., Hudson, MA