True Friends?
November 21, 2017
My life has always been complicated. No, many lives are complicated, mine is just one in the mess. Here and there things will happen between people like me and my friends. I think it is one thing to say I have quite fine friends, but it is another to prove that I do. Knowing this I don't think that I have that great of friends.
Every horrible day I wander the halls of the teaching prison with not a living soul willing to carry the weight of my world along with me. It might not be much but it is still some. "True friends," I think, "what is that?" Knowing if I have someone who will always be there for me when I am down was a little troublesome, but it has come to me over time. Understanding that I don't have these people in my life might seem foreign, but I listen to all of them when they are around me.
Lunchtime: when everyone can smile cheerfully and sit babbling on to their friends on either side of them. Always eager to tell about their extraordinary weekend. Yet with the scent of that cafeteria food and the slight buzz of those who are continuously talking, miraculously not a word will be produced from my mouth, or even a person calling my name, asking for me to speak. Nobody realizes that I am even there, pondering over my thoughts like a bird sitting in a tree. Although my day moves and I walk to my class as if I were a zombie newly awaken. Finding myself in class just curled away in the corner reading the posters amongst the room over and over again from boredom. When life moves on and I remember that every step will bring loneliness pumping through my blood. Walking in silence is one of the things I do the most.
I shall always wish upon the stars that I will find someone that will always have my back one day. To listen to me and my stories as well as understand who I truly am.
I wish to believe that I am strong, but I can only be strong for so long before igniting into flames and burn to the ground, and sadly I do not think I will be born again from those ashes. When I have little hope left, listening helps me to understand people for who they truly are. Something to help me, is remembering that silent and listen are made with the same letters.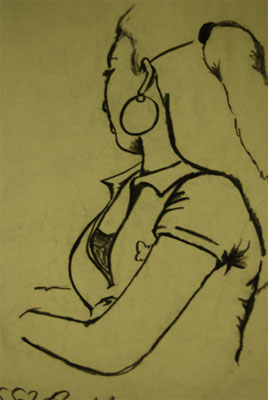 © Janessa B., Kannapolis, NC