Football Fever
November 2, 2017
"Wheeeeew"
the refs whistle damages my ear drums,
but the game has begun!
"BOOM CRACK POW!"
the sounds of pads striking one another,
a feel of constant head ache,
roaming through my head,
from all the hits I've taken.
The obnoxious whistle tortures my ears,
but the announcers exclaim, "Touchdown Panthers!"
The family members in the back cheering louder than ever,
are in for a good game. 
The intense game goes on,9
touchdowns from both sides every so many minutes,
make everyone watching bite there nails.
"Touchdown Maynard!"
Oh no,
They're up by 6,
2 minutes left.
"Let's go! 14 seconds left!" the coach exclaims,
2 seconds left the game was over,
We're gonna lose I thought to myself,
My eyes open wide as I witness a miracle,
I see Jake running,
20,
10,
TOUCHDOWN!
The final three whistles are blown indicating the game's over.
"The Panthers are your super bowl champions!"
The announcer exclaims with joy.
Big trophies are given.
As a team, we crowded Buffalo Wild Wings and feasted!
I will never doubt my team again.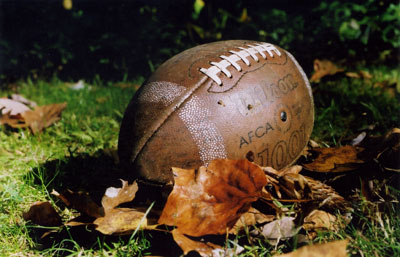 © Michael L., Bethesda, MD