Inspiration
November 17, 2017
Tentative fingers hover above keys,
The scatterings of a faint idea flees.
The sharpened tip of a pencil
Just above the page,
Prepared to write tales of a king or sage.
The clatter of typing is nonexistent
As the thrumming of small ideas stays persistent.
There is no scratching of pencil on the page.
My thoughts swirl around in my head,
Like a pot that has simply been overfed.
Heat radiates off the computer in my lap
And my fidgety fingers begin to tap
Lightly against monochrome edges of the machine.
The paper lies stolidly on the table
Until my thoughts organize and I am able.
Enticing wisps of creativity
Curl tauntingly around my mind
As fragments of stories begin to align;
Legends of conquistadors and great feats,
Yet each thought leaves before it's complete.
My eyes scan the stark and vacant space,
A writer desperately trying to save face,
While suffering from an overcrowding of ideas.
They flutter around as I pretend
To have more than just a beginning or end.
Deep in my mind lurks a captain who looks about him and spies
A maelstrom of unfathomable size.
Floating alone in the vastness of sea
As winds whip around a flimsy sail,
The feeble man feels vulnerable and frail.
Whispers from archaic tales of heros and villains,
Though altered, are spoken again and again,
Endlessly pressing on through time.
Faint utters of works long since passed
Reach my ears and desperately strive to last.
Lost in my thoughts are visages of citadels,
Left as rotting, ancient shells-
Abandoned in unbroken solitude
On hills long forgotten by time,
Alone in history's shadow and grime.
Each scrap of a story that reaches me
Struggles hopelessly to be free
Of the tempestuous sea of ideas.
The fragments howl in order to be heard
Above the voices of all the other words.
Ceaselessly washing over my mind
Are faint wisps of all these things,
The tumultuous sound causing my ears to ring.
The deafening shouts of a million untold tales,
Clamoring for space on the page, turn to gales.
And as those shouts turn incomprehensible,
A buzz of whitewashed noise,
The pencil in my hand is destined to remain poised
Above the barren and spotlighted stage
Of a plain
White
Page.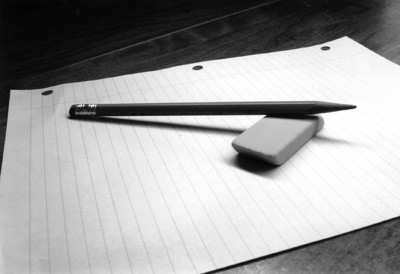 © Michael H., Mildford, CT