Floating in the mist
November 16, 2017
The grey fog surrounds the night.
A ship floats in the sea.
Inside, an atmosphere of fear and anxiety.
The waves crash into eachother,
They move like a river,
Trying to float ashore and stay alive
The thick mist isolates the ship.
Though nearby, stranded.
As the mist becomes thicker, the ship begis to lose hope.
Their hope becomes as unclear as their foggy path.
Behind the mist an eneffable crashing course awaits them.
They wonder about tomorow,
They wonder if they will see it.
They wonder if they will make it through the night;
They wonder if it's their last.
Yet, the mist clears and the stars turn bright--
Out of the stars shine something brighter,
A golden light, penetrating from the sky.
The light house becomes their tower of hope.
The light transfers from the tower to the ship.
It's from the light of hope that the course is changed.
The crew was anxious to death-
It's what they feared.
The ship ebbs, approaching shalow waters.
They smile and release their breath.
Now they step off away from sea and onto land.
They walk away from the shore,
Away from what would have been their eternal bed.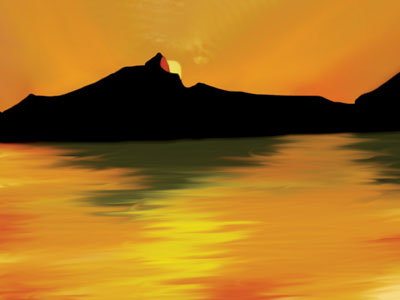 © Rachel M., Camarillo, CA