Young Love
November 16, 2017
My life was changed summer of 2015
I experienced what love was...
Never did I ever think loving someone would be scary, confusing, and heartbreaking
I was young and innocent I wouldn't have imagined myself lying to my parents just so I can see him for a few hours, losing my childhood best friend of 8 years since kindergarten, or worse crying over a boy in the bathroom stalls instead of being in class and learning or late at night when instead of receiving sleep I was loosing it.
A childish, confused, yet amazing boy is what caused me the pain that I would never want to  feel again…
It started off like a fairytale that ended with a happily never after
We were apart of two different backgrounds, it was as if we were in a montagues and capulets setting.
Forbidden love that will never have closure, was it really meant to be or not? Was the love just like placebos thinking we needed them to survive but really it was all just false lies...
Maybe that's what caused us to split… or maybe it wasn't… was it me being scared to settle down, him being indecisive and confused on what he really wanted , my strict parents that never accepted him even though he had good intentions , other girls at his school or work that found him attractive but had no respect that I was the only girl in the picture, I will never truly know because his answer will always be the same 3 stupid meaningless words… " I don't know."
I cried with grief, sleepless nights with unanswered questions just roaming through my head.
What about the promise ring -- given to me at prom where we locked memories, shared secretes, and was said to be the night that was never forgotten-- Our future together -- where we would talk about having pets and traveling the world together because what's better than spending the rest of your life with your bestfriend-- Where did that love go? I continue to ask myself that question everyday and everyday I always seem to come up with a new answer.
I'm not sure how many times I broke down, it was too many that I lost count
It was a mind vs. heart battle that never had a winner.
I really wish I would've found the answer sooner so the pain that aches my heart can disappear, but that's why they say letting go is the hardest part.
On and off, break after break, it was never an equal love. He was always chasing after me and if not I was chasing after him, then I noticed I was losing myself thanks to him. Losing my feelings such as being happy, losing my interest because I was too focused on his, losing my friends that I had promised never to let a boy come between us, but most important losing my confidence, because know I'm the one that suffers at the end.
Months later, I then moved on to realize that it was never real love, you don't change yourself for someone, if anything they change you to be better, he was definitely not my better.
Freshmen year past so did the romantic phase, now I'm a senior focused on herself.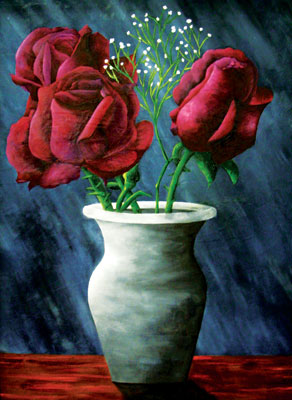 © Brandon S., LaFollette, TN