Chicks Hunter
October 30, 2017
Sorrow is the only thing I can remember. Promises never kept, many convincing lies and a foolish me. Pain is for me every living memory in my head. An arrow in the middle of my heart. Destiny put him on my path, but his was the choice of breaking my heart in a half.  If only I had known how much sadness he would bring to my life. Regrets chase me,  agony is my shadow and tired are my eyes for many wasted tears.
Warnings were said about him, evidence was brought before me, but my ears were already shielded and my eyes totally blind. His sweet and warm words guided me against my will. Under the chicks hunter spell I was kept, without having a guess. Oh! How unwise had I acted! Avoiding good advices and rejecting everyone who opposed him.
The fact that he could leave me breathless finished me. More than a love story it became my biggest misery. Fooled by his wordiness, slave of his presence and chained to eternal grief. I thought nobody understood him, but I was the one who didn't comprehend.
His stay didn't last much. After a few months, without a farewell, he was off, as far away as he could go. On those days I wouldn't eat or drink, only cry and cry, for my heart he took as he left me behind. Fresh to my mind was every word he had whispered, every flower he had brought me and every vow he had made. My heart cried out for him. My body ached, for every bit of me desired him to come back, even though it was obvious he wouldn't return. A hurtful letter, placed on my desk, was left. With a melancholic soul I read the lines that will haunt me forever:
"Lollipop, you didn't win the lottery by meeting me. Long time ago you should have noticed no love felt I for you. Forgive me dear, but loyalty has nothing to do with me. I'm off to localize more lucky, lovely and lonely girls like you."   ~Chicks Hunter
Worst news couldn't have hit me as tough as this ones. Not only did he dumped me, but also he made fun of me. My face went dark as well as my heart. Black veils and dresses, my passion for continuing on living were dead. Too late I realised that logic I lost by looking for love.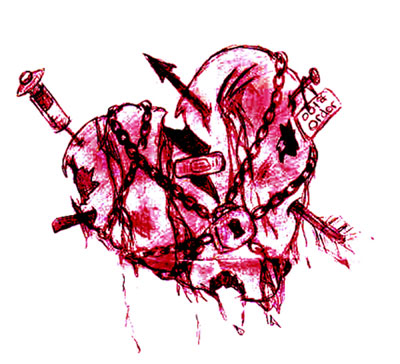 © Asia B., Hudson, MA