Where Im From
November 12, 2017
I am from the cupcakes that I love to bake, from the clothes I wear from Hollister, along with the cute clothes I get from Aeropostale.
I am from the lime green and tan back bedroom of a two-story house, along with two annoying brothers.
I am from the crape myrtle in the pine needles, and the little flowers in the mulch growing in the flower bed.
I am from Elevation Blakeney, from a good homemade breakfast momma made before church to my Pastor Steven Furtick who preached a good sermon on Sunday morning. From serving at my church to helping little one's ages 2-3 to learn about Jesus!!
I am from the family who goes to Myrtle Beach every summer for a week, and the two parents along with the two brothers with straight teeth not needing braces. From my mom, who is an in-home childcare provider, from my dad who works on chimneys with my Aunt and Uncle who run their own business, from the older brother who is sometimes a jerk and loves to mess around and fight with me a lot just to get me mad!!!!

I am from the family who gets very excited about the littlest things that happen, and from the loud screaming at the T.V. when the football game is on, even though they can't hear you they still talk loud. From the obnoxious arguing from my older brother and younger brother to joking around with my dad.

From trying to help out my mom, to being told: "If you want it done right, best to do it yourself!" From my neighbors who tell their children "Stop crying over spilled milk." From my best friend/sister Kaylah, who lives across the street coming over always asking "You got food?"

I am from Charlotte, N.C. as is my older brother and my dad being from Lampasas, TX, but his parents are from Mexico. From my mom being from Raleigh, NC. but my little 8-year-old brother was born in Lancaster, SC. From eating Southern made Meatloaf and Fresh Italian Cuisine to Peach Cobbler topped with Vanilla Ice Cream from my grandma.

From the mom who was hit by a tractor-trailer and was ejected out of her car 40ft. on I-485 during the 5:00 traffic on November 9th, 2000. My oldest brother who was supposed to be with her that day, but luckily my grandma had taken him to go see our great grandma.

I am from the Runners Up Court Photo where I placed 2nd in the Miss Charlotte Teen. I am from the silvery picture frame, placed on my brother's desk on the right side of his bed, from Presbyterian Hospital of him holding me the day I was born. From the memories that I have with my best friend Kaylah in her scrapbook placed in the 3rd drawer of her desk.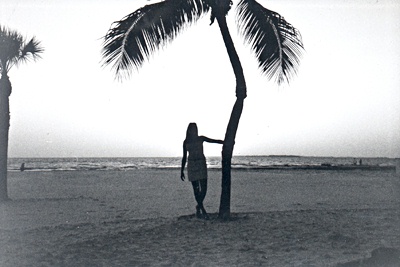 © Kim B., Marblehead, MA