Reflection
November 10, 2017
*opens door*
*looks at steamy mirror*
*wipes hand across mirror*
*sees reflection*
Mind: Your face isn't as red as it was. That's good.
Eyes: Look at your face. It's so red, and you have pimples all over.
Mind: Your eyebrows -- they look nice.
Eyes: Are you kidding? What are you looking at? Your eyebrows are so bushy.
Mind: Your eyelashes -- they are so long.
Eyes: No they're not. They're so short that even Covergirl mascara can't fix those.
Mind: You can't see anything positive. If you're so good at seeing the negative, then tell me. What else do you see that is so bad?
Eyes: Your hair has split ends, your feet are small, your thighs are fat, and your arms are hairy.
Mind: What else is wrong with me, Kiley?
Eyes: Your skin is pale and your face is cakey. Your lips are chapped, your back is covered with ugly freckles, and your fingers are fat. You are ugly.
Mind: No, you're not. Would you say this to one of your friends?
Eyes: No.
Mind: Then why are you doing that to yourself right now?

You look beautiful and you are beautiful. Don't let anyone tell you differently, not even yourself.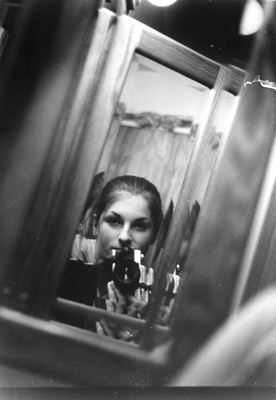 © Lindsey D., Marblehead, MA