Seasons
October 29, 2017
spring
gazes at her mother & sees
flowers in her eyes. daisies,
she loves so dearly, doesn't want
them to die, wants
to hold them in her sticky hands. she
puts tape on the small cut on her finger,
trying to heal & fix it on her own.
when they go blueberry picking, she
sees all the ones
that no one else can see,
all the ones under the bushes
at eye-level. she
loves the dandelions too, believing
that she spreads little doses of happiness
with each seed that the wind sweeps away.

summer
plays sweet, melodic tunes on her
wooden ukulele, ones
that remind her of home. her
song rolls smoothly off of her tongue like
warm honey in the afternoon.
when she outgrew her baby blanket,
she cut it up and made a quilt
of memories, stitched with secrets.
her eyes glisten with a yearning
for all the cities of the world,
especially the ones with endless syllables
that she cannot pronounce. with her
hopes and dreams intertwined in her tangled hair,
she is beautiful in her own peculiarity.
autumn
walks with a cloud of smoke
and mystery behind him.
he chuckles at the
sound of his own laughter,
smiles at the sparkle in his eye.
on his left wrist, he wears a watch,
patiently waiting as the days sneak by,
under his nose.
he sits on a park bench and observes the
sun as it hits the horizon and the
wind as it spirals through his hair,
with the red and orange hues.
saturday mornings he spends
with Poe and Plath.
afternoons he pens incoherent stories
about politics and economics and religion.
nights he spends alone.

winter
wistfully sits in a room while dusk
pours in through the torn, translucent
curtains. with his wrinkled hands, he pulls
at the lingering threads of steam
from a dark abyss of coffee, as it
disappears into the lifeless, morning air.
when the sun rises behind the clouds,
he listens to the monotonous yet piercing
sound of raindrops as it hits
the hollow pavement.
he reads the sunday papers,
with words running off the page,
and with his crooked glasses
on the tip of his crooked nose.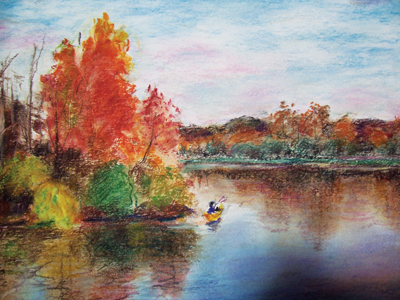 © Xiao H., Naperville, IL