Stories like Scars
October 8, 2017
I once imagined people to wear stories like scars,
breakups like a touch too much makeup,
heartache like the bruise on your left knee cap,
happiness like the glow in the eyes,
the upturned curl of lip,
the taste of rose petals and sugar crystals.
But I've grown to learn that people are
good at masquerading as something they're not.
Sometimes quiet means nothing but quiet,
but sometimes quiet is the memory of sliced skin
and the burst of blood and the way a body was put
in the ground two days before your plane
took off and sometimes humanity is too
complex to read in makeup and how much sugar
you put in coffee.
I've learned that smiles can be
carved out of decay and frowns of
creativity and blankness of just that.
I've learned that happiness tastes like
fresh air after a rainy day,
and heartache is the thing that tastes so
sickly sweet, so numbing,
that it's bitter.
I've learned that people are mysteries
made out of ink to paper
and quiet to chaos,
the way fingers fold over other fingers
and the way warmth comes out of cold,
and I've also learned that it takes more than a glance to
understand them.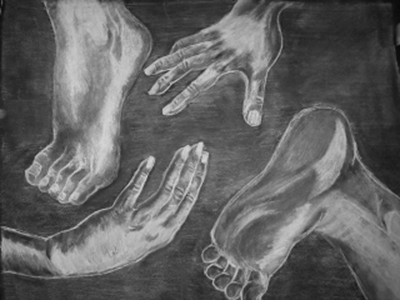 © Rachel U., Danbury, CT