La Danseuse
October 6, 2017
Sweet music plays from the room,
The small, lit room in the darkest house,
On the 7th street.
At the center of the room,
kneels a slender girl
with dark eyes like chocolate and hair the color
of ebony ink on fresh paper.
Her petite hands grace the floor,
and her slightly calloused feet feel the rough yet comforting
carpet on the ground.
She stills as she hears the
slow yet steadily rising beats and melodies
coming from the radio in the corner of the room,
entrancing her, filling her,
calling her.
The music swells.
She stands,
places a gentle foot forward,
and takes off.
Flying, soaring across the room
as the music speaks and flows like a river.
She gracefully twirls, and pirouettes
as the violin in the song begins to sing,
and the cello begins to hum.
She doesn't stop moving,
Never stops riding the song like a fish in the stream,
Even as the violin sinks and loses it's voice,
Even as the cello begins to cough only beats from it's hoarse throat.
She skirts across the room,
And throws her head back to the waning beat.
And she finally stills once more,
When the cello breathes it's last note.
The shadows in the room stop their movements,
And the room falls silent.
And suddenly the smallest room,
In the house on 7th street,
Is dark once more.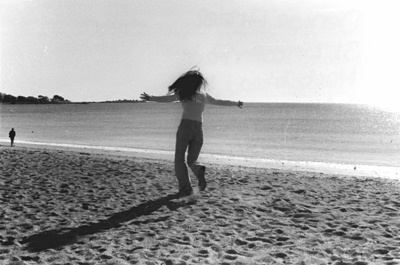 © Denise A., Marblehead, MA