Sinking
October 5, 2017
I fell into your love like a white petal floating and crumbling
Into the dark silver waters of humankind's first mirror,
Rejoicing as I tumbled and withered in the wind,
Towards you.
Your arms outstretched, the crippling passion and the decaying
Morality engulfed me as I embraced you,
Immersing my being with the bountiful blindness that clouds
The souls of lovers in oceans of fluttering lips, cold fingers, and hazy lungs.
As I fell into your love,
I lost myself in the warm, coppery sand,
Edging closer to the white waves and their sweet lulls,
Crashing onto the shoreline.
The black waters, laced with the moon's glistening light,
Caress my succulent skin.
The night air intertwines with a glossy film,
Accentuating each pearl-like drop on my throat.
The quivering breeze nips my body with cold bites,
Leaving the blue and purple shadows of the clouds
Tenebrously drifting over the moon's eyes over
My neck, breast, and collarbone.
I've forgotten the way the water oaks lean
Towards the sea behind me under this carnal charm
That swells into my blood when I see you,
I gasp, and fall.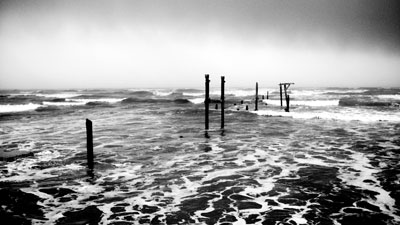 © Harrison L., Ruston, LA