26.90
October 24, 2017
I hugged my parents and walked out onto the crowded pool deck.
I was almost immediately greeted by my coach who had my events
And my friends who wanted to know if we were to race against each other,
or with each other in a relay.
I wrote my events on my forearm in Sharpie,
The smell floated up to my nose, mixed with the chlorine, it caused a putrid odor.
I started to get nervous butterflies, fluttering fast enough to cause a hurricane in my stomach.
"You're going up against Connor, Maddie, Grace, and Drew.
Good Luck Mare. They're fast. But you're faster.
You can do it. You are on a Relay anyways.
Let Andrew get you ahead,
swim like you've never swam before,
Amiley and Kyle will do their part if you do yours.
Ok?
Get on the blocks, Andrews coming."
The block scratched my feet uncomfortably, I waited
And the chlorine burned my nose, I waited.
Nerves rattled my insides, I waited.
A hand, not belonging to me, but Andrew, hit the wall.
I burst off the blocks in nervous anticipation.
In those moments that I was in the air before hitting water
was the most calming part of the race.
It was the eye of the hurricane.
Just silence.
I took a deep breath and crossed my feet- a good luck tradition
The second I hit the water, I kicked
I kicked like I've never kicked before and used my arms until they stung with pain.
I didn't breathe until I had realized I hadn't been.
I flipped and hit my heel, causing massive pain to shoot up my leg,
I kept swimming, knowing very well I was swimming with people 5 years older than me.
I felt like I had something to prove.
Something to prove.
Something to prove.
Something to prove.
My hand hit the timing pad.

I felt Amiley dive over me and I held my breath as I checked my time- 26:90
I was oblivious
state championship qualifying time was 27.79.
I felt the world slow down
I looked over to my parents, the people who had been behind me for forever, they cheered for me and my team,
who was just as oblivious to what my time meant as I was.
I looked to my coach who was too preoccupied to realize that I made the cut.
Competing at a state level would not be realized, I would need to wait for another day.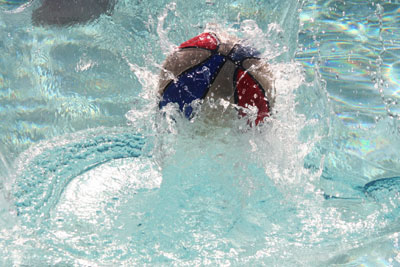 © Justin W., Cape Town, South Africa