Daddy's Little Girl
October 27, 2017
She's ready to leave with all her clothes,
Prepared to give her new life a whirl.
Grabbed her things and off she goes,
Daddy's little girl.
Father's tears run down his cheek,
Not ready to let her go.
Unable to speak,
He refuses to watch his little girl grow.
She heads onto the bus,
Scared for the life ahead of her.
Desperate to prove she is one of the guys.
Leaving her old life as a blur.
Unaware of the obstacles ahead,
She is still determined to succeed.
The others thought she would have fled,
Before she could make her plea.
The men would laugh at her trials,
While the sergeant stood with frustration.
She would get back up with a smile,
To show her dedication.
Her determination soared
As she proved her strength.
Wanting to bring home her reward
That was at arm's length.
She was proud to become a marine for the US.
As she showed she had the ability,
She hopped back onto the bus
To go somewhere with tranquility.
One place came into thought.
The place she knows the most,
And where she could have never forgot.
Her home out by the coast.
Where her family lives
In a house as white as a pearl.
Inside memories thrive
Of when she was once daddy's little girl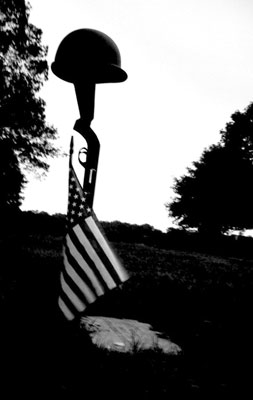 © Kristine B., Setauket, NY