Hermit- Solitude
October 26, 2017
People always seem to be together,
Everywhere they go.
It seems as if they held by an invisible force
Like magnets
attracted to a common pole.
Like jigsaw pieces,
The uneven edges
become as neat
As the leaves growing
On trimmed hedges.
Like square pegs,
In square holes,
And perfect shapes,
In perfect moulds.
But I've never been the same,
And I doubt I'll ever be
When the rules of fitting in are
Something I can't see.
Opposite poles don't attract,
and the wrong jigsaw piece will never
Make the puzzle intact.
The rectangular peg, in the square hole,
The wrong shape, in the wrong mould.
They say that being unique
Is something to be proud about
But do they tell you what to do when
Everyone belongs and
You're the odd one out?
And every time you find someone
Who makes you feel complete
Who appreciates you,
And likes that you're unique,
You part with them for some weird reason
You can't comprehend-
The rip between your relationship
Time just can't seem to mend.
Sooner or later, there comes that time,
The moment in your life, where you write the words in rhyme
And realize that forever,
What keeps people together
Is what keeps you apart
From everything and everyone else.
A part, and apart
Such a tiny space between the letters
Is what makes all the difference
Between fitting in,
And not.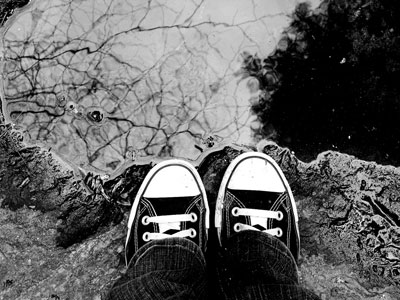 © Michelle B., Blairsville, GA