She is Sisters
October 26, 2017
She is make believe games every afternoon,
She is reading through long car rides.
She is reese's peanut butter cups, kit kats, snickers and 100 grand,
She is writing and trusting me,
she is strong, faithful, smiling brightly,
She is braiding flower stems, clovers and fall leaves in my hair.
She is singing when we should be asleep,
She is Just Dance queen and resident phangirl.
She is turtles and the artistic one.
She is serious conversation tones.
She is loud laughter after church,
She is beanie baby bears.
She is rubber band bracelets and blue eyes,
She is quotes she doesn't know I've read.
She is paint on my face, wet feet in the creek
She is squishing my face as I speak.
She is bunny ears she didn't know I gave her.
She is winter igloos and snowball fights.
She is half built snowmen and sandcastles,
She is brown sugar clumps we sneak.
She is music, she is fun, she is honey on toast in the morning.
She is peanut butter and chocolate chips,
She is a lap where I lay my head.
She is books, art, poetry.
But most importantly,
She, my sister, helped me become me.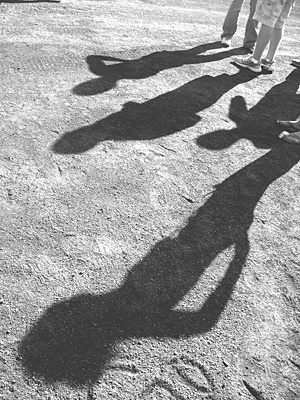 © Trella R., Mountain Lakes, NJ