Breathe
November 3, 2017
I gazed upon the pitch sky, taking deep breaths,
for with tears in my eyes I had been contemplating the complexity of death.
Had the world always just been so mad?
Had we always been the harbinger of feelings far more than sad?
Why do we wound our being until we are stark,
just to end up begging and we pleading in the dark?
Killing each other for no adequate reason,
as if murder is not the true treason?
If we do not treat each other as something to be passionate about,
then it will be ourselves that will wipe each other out.
I took another deep breath.
Some will sacrifice limbs before putting a gun to rest,
but one finger pulls for both hands to cross a chest.
That one squeeze to extinguish a soul,
just to let endless tears drop and another lose control.
As if a life could just be as light and shallow as a sketch,
when in truth, every little bit of good will prove to be an etch.
I took another deep breath.
We murder for complexion
as if there can be a resurrection.
Discrimination for reasons invalid,
when we are all tossed together like a cultural salad.
The endless excuses, the color of skin;
despite our one common origin.
Not just facing adversity but diversity to the face.
Those actions will not fill a family dinner table's empty place.
I took another deep breath.
I still lay there, under those stars, as if what I cared about was astrology.
Why do women always come after an S and an apostrophe?
Blank's daughter or blank's wife;
Is it impossible for a woman to have her own life?
As if another human is just a possession;
as if it's right to allow such oppression?
Hiding bruises with concealer,
as if that is the proper healer;
a brutal path to endeavor,
when the world will not understand that permanent is forever.
There are no human rankings as if one could be the highest.
How could there be if equality is not biased?
I took another deep breath.
Maybe if we could just look up from the screens buffering
we could truly end humanity's suffering.
We watch as someone will take their own life because they claim to be okay,
How can we really just text "whatever you say"?
For just someone to talk to their souls will sell.
Yet the day we can be there for them has to be a cold night in Hell?
With so many fellow ones of us who are suicidal,
How can the world can just sit idle?
I took another deep breath.
Ocean tides rise
while the ignorant shut their eyes.
Frigid glaciers melting away;
can we at least pick up trash off the highway?
I took another deep breath.
Explosive weapons exterminating lives in a matter of seconds.
The kind of corruption only politics beckons.
At this pace our world will meet certain obliteration.
Then what will be left for my generation?
Can we focus on the post traumatic in post traumatic stress disorder?
It's not something we can solve with just some ridiculous border.
Couldn't we focus on more
than plunging ourselves into the next world war?
Take another deep breath.
Millions pray daily to the divine,
but religion's line in the world had always been fine.
What was there to blame for all the pain?
What is out there that has all of this from which to gain?
Destiny, fate?
There is no factual reason to this date.
By the time we truly know,
it will inevitably be too late.
When had differences in people become all we were?
When had injustice become our minds allure?
Everyone can change the world
when the smallest of the world's blessings are unfurled.
Do not speak with phones or speak with the crowd.
A voice that conveys good is always far more loud.
Racism losing to equality
could be the world's best quality.
Why suffer fatalities
with a world changing mentality?
Every little thing you do today can change the world,
but there is much more than just this!
Allow our power and emotion to be swirled,
for a life cannot be hit or miss!
Stand up, let's finally fight for each other!
Lend your hands to one another!
End what has been accepted far too long!
Do not succumb to it's deadly song!
As long as we breathe we can stop this pain and death,
to give us all a chance at another deep breath.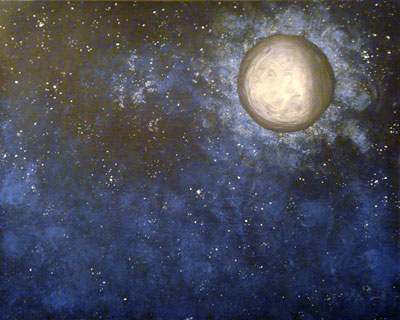 © Allison H., Vancouver, WA