The Playground
October 24, 2017
The blue sky contrasts nicely with the muted colors
Of the play structure in front of me.
The tan slide looks clean and tidy on the outside but a secret lies Within the tube of plastic.
Black swirly graffiti written by teenagers unhappy
With the childhood memories they hold.
Little children dive through a hole
Painted to look like a lion's mouth
Just as if it is the most dangerous thing they've ever done
As if the lion is alive and waiting to bite down on one of them.
Years of wear and tear
Has caused one of the lions painted on eyes to disappear
As if it was a punishment for closing his mouth.
A little girl jumps from a wobbly bridge to a platform
Acting like it was a daring feat
Only the brave and the fearless would attempt.
A little boy makes his way to the top of a plastic castle-like structure
Begs his parents to look his way
And praise him for getting to the top of the green and tan tower.
Two kids slide down a pole one after another.
They run off to play in a damp sandbox
Littered with chipped shovels and broken dump trucks.
A parent calls to their child telling them
It's time to leave the wood chips and plastic constructions.
And the child
With a sad look
Reluctantly leaves until tomorrow
When his parents will let him get some exercise
And allow his imagination to run wild
With spy missions and challenges to defeat the dragon
Before he no longer can
And he becomes the teen writing on the slide.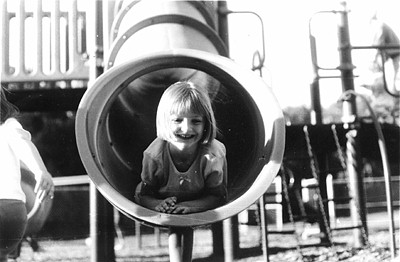 © Lara C., Norwalk, CT