BIrthdays
October 20, 2017
Birthday's are weird.
Why do we celebrate them?
It was the day you're born,
Okay,
But why is your birthday your 'special' day?
Why does everyone have to treat you extra nicely?
But who thought of the idea to bake someone a cake for their birthday?
Why a cake?
Why can't you make someone a bowl of tomato soup?
Wouldn't that be strange.
If you gave everyone a big bowl of soup for their birthday,
But where would you put the candles?
Who thought of putting candles in a cake anyway?
Did they think it made sense to put sticks of wax in a baked good and light it on fire?
Why do you want to melt something inedible onto something that will be consumed?
Imagine how terrifying that must be to a person who never celebrated a birthday.
A group of people forcing smiles,
Circling you in a dark room,
Lit only by a specified number of candles,
Everyone monotonically singing to a song, staring directly at you,
That everyone somehow knows all the words to.
How did we learn those words?
Did we just learn by watching?
Everyone knows the words to happy birthday.
The same way everyone knows their first and last name.
Have humans always celebrated their birthdays?
Or did they even know their birthdays?
Birthday is an uncreative word.
You can define the word just by taking a breath in between birth and day.
It's the day you were born.
Why do we celebrate them?
I don't know.
No one does.
Birthdays are weird.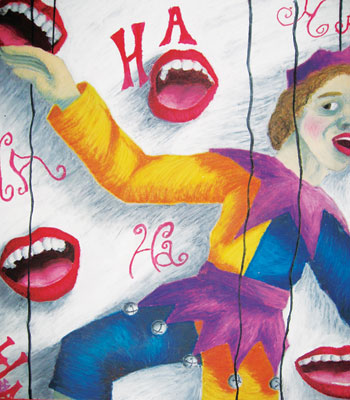 © Carollynn G., Hawthorne, NY