Jellyfish
MAG
October 19, 2017
With eyes closed to rationality,
I gaze out at the breathtaking sea,
dipping my toes into
crippling fear.
For here I wobble,
tilting in the sharp, salty air.
Knowing, just knowing
that tentacles of a murky hue
will caress my hip,
wrap around my arm,
ensnare my senses,
and light a wildfire in my nerves.
My eyes fly
over the choppy water,
wide with distrust.
Always searching for the mindless thinkers,
the heartless pain-bringers,
the lungless movers
that use the ocean's breath as their own.
For the nagging suspicion that the blue
shadows
dancing to the moon's rhythm
will send lightning through my veins
once more,
never
recedes with the tide.
My heart quickens, sputtering and strained.
My mind becomes a writhing sea,
harassed
by storms of anxiety, agonizing memories,
scars still laced on my skin,
in harmony terrible and true.
I fear
I may drown …
but I hold my own hand,
seeking a lifeline within myself.
I ever so slowly flutter open my haunted eyes.
To see, oh to see!
A softly shimmering expanse of aqua mystery,
sea foam secrets,
deep blue intrigue,
pregnant with creatures of good intentions,
and those with questionable ones.
And that's okay.
I take a refreshing breath of warm breeze, clean and light,
and allow the sun to melt upon my face.
the cool sea caresses my shoulders,
comforting me,
telling me to lay back upon the water's
glistening surface.
Now, I just
float.
Rocked to peaceful slumber
by her steady heartbeat.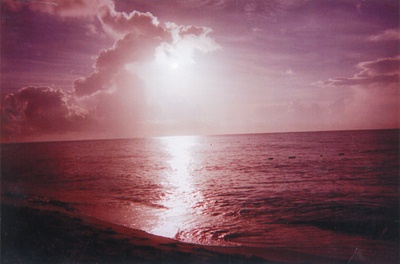 © Angela F., Bonham, TX