Closer
October 19, 2017
The early light of dawn floats
through the bay windows across the room.
It carries glitter from the
skyscrapers all around and sifts
through the little suite to our bed.
Half the sheets lay scattered on the floor
where they were kicked off the night before.
Amongst them lie stumbled-out-of-shoes
and a trail of thrown off clothes
we helped each other out of. 
My eyes follow the trail back to our bed,
and I smile at our tangled up legs
and the way his fingers threaded through mine
even in sleep.
I rub the sleep from my eyes,
mumbling a yawn into my pillow of his arm.
I roll over into him,
and tuck myself in next to his chest
and snuggle in the warmth
of his bare skin on mine.

The city that never sleeps is waking up outside,
but we stay buried under the fluffy white comforter.
His sleeping breath is a steady lull
that makes my eyes heavy.
I stir again,
trying to feel more of him next to me.
He presses a gentle kiss to the top of my head,
and a soft smile touches my cheeks.
My eyes give up the battle of trying to stay open.
As I start to drift off to my dreams,
he pulls me in closer.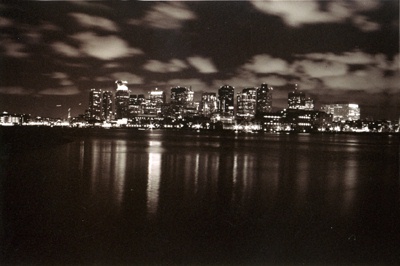 © Hoang P., Rochester, NY