Where I'm From
October 19, 2017
I am from calla lilies,
from Miracle Grow and Weed and Feed,
I am from the garden in the backyard.
Vibrant, flourishing,
It felt like devotion.
I am from the Wisteria vine,
the Weeping Willow
which cries away the leaves of green
when winter comes upon.
I'm from the holiday dinners together and longevity
from Homer and Clove
and Evariste
I'm from the family-centric and
traditionalists,
from Try it, this is different and
Don't use the "O" word
I'm from Amen, Lord Jesus,
with a Hallelujah and
Praise be to God for the gift of the Messiah.
I'm from Jefferson and Laurent's branch,
Biscuits and Potatoes.
From the bullet which shot
my great-grandfather's foot,
the finger my great-grandmother
lost to an axe.
In the cabinet by the couch
with container after container,
Faces and faces with smiles and frowns
heading from Europe to Canada
and landing in New Orleans.
I am from the Crawfish and Spice State,
and yet I could not be any more different.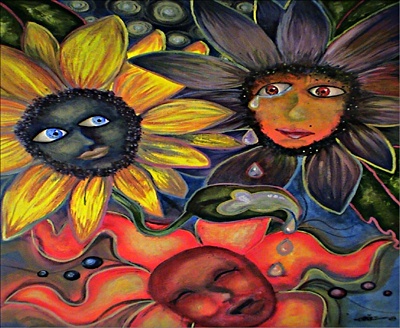 © Christine W., Davis, CA