love is
October 14, 2017
It's staying up late and walking around outside the city in the dead of night when the only lights are street lights and everything is closed and the roads are quieter than usual, and you can walk around truly like the only people in the world.

It's parks at midnight where you can spread out a fuzzy blanket and lie on the ground and just gaze at the stars, or perhaps the funny shapes the clouds are making, and maybe not even have to talk, just sit there.

It's hot chocolate and puffy quilts and old movies and freshly baked chocolate chip cookies with a perfect gooey center in the middle and barely any lights on around you.

It's the peaceful silence of snow falling and the quiet beauty of the moonlight on the ice crystals and the strangeness of being trapped inside together and deep down, neither of you caring too much.

It's blanket forts and thick books and fairy lights and laughing until your stomachs hurt at jokes that only the two of you will get.

It's singing off-key and dancing badly in the kitchen when you probably should be sleeping.

It's nose kisses and forehead touching and intertwined fingers and heads buried into shoulders and soft hugs and cuddles and playing with hair and falling asleep with your head in the her lap.

It's whispered "I love you"'s when half-asleep, giggled "I love you"'s when joyous, tearful "I love you"'s against her shirt when she comforts you, and breathless "I love you"'s when winding down.

It's sweet dreams and sweet realities.

It's her.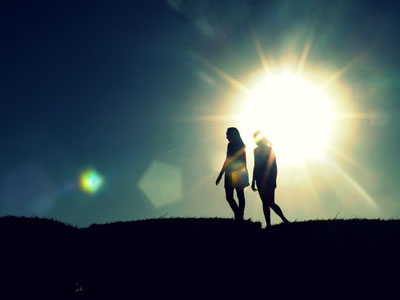 © Alexzandria R., Salem, OR