White
October 16, 2017
All around me all I spy,
Is white .
All around me I see these albino, adhesive walls where the only things that adhere to them are the alluring aberrations of this abominable administration, where those appearing attractively are abhorrent to other abstractions.
All around me I see the white, foamy waters that run on the coastline on someone's oceans eyes. Where the hurricanes of hurt, and the tsunami of low self esteem sink the person deeper.
All around me I see the pasty, pale people, who are persistently passive when being pushed into submission.
All around me I see the absurd autographic attempts of this schooling Administration trying to actualize the illusion that happiness is something easily found, but you still notice the silhouettes drowning in this murky substance of depression.
All around me I see mountains of papers. Where avalanches if mistakes, and grades are hurled at me, and the altitude always grows, so the fact of being ahead alludes me. If the atmosphere alone was my sustainability I'd be dead, so I'm left searching for relief in a guy with two brown eyes.
All around me I see my demise under all this white disguise. Where I'm being deprived of the feeling of being alive, and my free will is thus left on the windowsill.
I left without thrill, as I take another pill to calm the chill —
Finally. I'm still.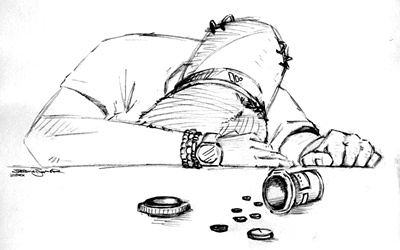 © Jeremy B., Austin, TX