peter and joan
October 16, 2017
a little girl with platinum blonde hair
and sun kissed skin
walks hastily through a crowded airport
with her mom by her side.
she has finally arrived at her destination
with a smile so big
the corners of her mouth could tear.
the little girl runs through double doors
and becomes engulfed in familiar arms
reminding her of her favorite place.
there's a sudden aroma of perfume
mixed with moth balls,
and an itchy tweed jacket meets with her skin.
they drive for an hour.
the rental car her mom picked up
rolls through a gravel driveway,
waking the little girl up from her short nap.
after getting settled,
they amble through the field.
the little girl goes out of her way
to step on crunchy leaves,
sprinting so far ahead
that it's hard for them to keep up.
peter and joan run after the little girl,
reaching the big forest,
and going over the small wooden bridge
atop of the steady stream.
they climb the big hill
finally reaching the top,
and they see something
the little girl has been waiting to see
for a full year.
delicate pink petals
wrapping around each other
falling off a weak short stem.
they walk back down the hill,
running back inside
the little girl telling everyone
what they saw.

the little girl wakes up from a dream.
thirteen years older now,
sporting darker hair
and bags under her eyes.
she's back in her favorite place,
but it feels a bit different.
blue paint replaces the pink walls she grew up with,
the bed on a wall adjacent to where it was before.
there's new artwork on the walls,
an unfamiliar rug on the floor,
and no more purple clothes in the closet.
she walks downstairs,
feeling like a tiny dot
in this big house
that is far too empty.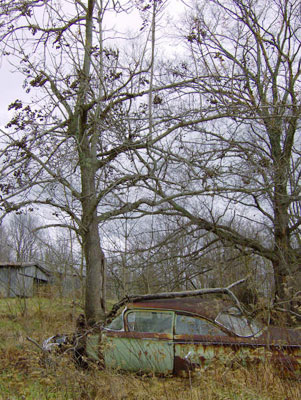 © Kimberly H., Summer Shade, KY