Memories of Pawpaw and I
October 12, 2017
Pawpaw will be someone i'll never forget.
I can see us now sitting in front of the garage,
both on 5 gallon while buckets with his natural light beer in his hand
and my "beer" that was really just a juice bottle.
I can smell the smoke from his barbeque pit.
I can taste the sweet baby rays sauce and secret seasonings from his famous ribs.
He was famous for his barbeque.
I can see him in his blue dirty overalls and a flannel shirt.
Hands deep in the dirt with a little shovel
Me right by his side trying to help him garden.
Tomatoes, cucumbers, and peppers.
He could garden anything.
I remember riding in my barbie car with him walking right next to me
Playing car 37,
sitting at the big rock,
Playing school,
Catching the crooked eye crab on the beach,
Miles and miles of walks were spent together
Over the years he taught me many things.
How to make his famous barbeque and garden.
How to laugh no matter what and makes jokes.
And how to hide the pain.
911, Ambulances, and hospitals.
My life came to a stop.
My grandpa was sick.
Very very sick and i never even knew.
He had cancer.
Cancer in his brain, lungs, and kidneys.
Not only was this hard to accept,
But a week later he'd pass.

My grandpa will  be remembered by many.
He was my best friend when i was little,
Someone that i looked up too.
My father figure. 
We might not ever have any more memories together,
But i will always cherish the ones we do have.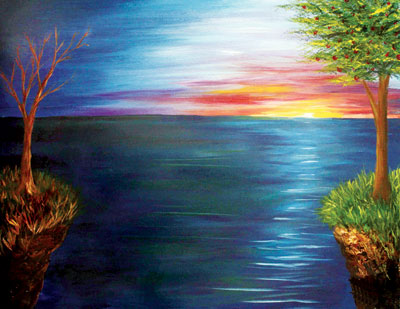 © Ariel G., Moses Lake, WA