Falling
October 3, 2017
He's falling....
Falling,
Falling faster
His dark wings won't open
Hurdling towards the ground,
His resolve breaks as he tried again
Crack after crack fractures the air
One scream,
But in fear alone
And her...
Something in the darkness catches her
And she doesn't have wings,
But she's not falling,
Climbing down slowly towards the bottom,
She pays him no notice
Her eyes are set on some shape on the bottom
And She'll be alright,
But his familiar face...
I can remember
He's done too much
Now?
What about now?
The clouds won't let me through,
And I must wait for the sign
I must wait, and have hope
Trust
I must have faith
It's almost too late
Have I lost him forever?
And it comes,
A low roar across the sky
His approval, a lion's call
And yet I'm hesitant,
A split second, as the white absorbs the both of them-
Am I not dreaming?
Another crack and a thud,
This one sounds wet-
In an instant I'm gone,
Diving through warm colors
Through a summer's zephyr
Through fear
And between the shades of light...
In seconds my arms are around his torso,
Caught in a tight embrace,
But he's still struggling against the wind
His wings a stormy blur - I can't see how bad
I spread my wings and they take the weight of the fall
As if it were but a feather
Not so bad
But the impact makes him jolt,
One wing outstretched in relief...
The other twisted and broken,
I look away,
I can't look away,
From the crumpled
From the mangled wing nearly torn
Completely asunder
How is he not screaming?
But- he is crying
Silently. But he is crying
I hug him tighter against me
As the wind caresses my face
And I slow the fall,
And the rain,
Now washes his wings
His chest stops shaking as hard
And the black dissolves into a faded white-
No- That's not right
Silver
My feet touch the ground,
The first time in what feels like centuries
Has it really been that long?
It can't be-
Only a month
I don't let go too fast,
I want to see if he can still stand
His knees are weak, but he'll be alright
He turns and-
I expected his eyes to be light and
His face to be as soft as mine,
But his face was rough
And his eyes were a dark brown
I guess I never did forget that-
Why would I expect otherwise?
Warm, they gazed at me,
He reaches out his hand,
Dark angel, his wings not as dark but far from white,
I don't care
The door closed once,
Between us,
And now that it's open
Now that we're ready...
It's time
I take his hand in mine
And feel the strongest silk against steel skin,
My skin unable to ever be torn
And his skin bulletproof
He pulls me closer slowly
His cracked lips shift like liquid metal
Into the shape of thanks and again-
He's met me before,
Been weaker before the fall,
But now something else takes a form
It tastes of rain, feels like the petals of a rose,
And settles like the strongest metal
In an ever hot, ever changing mold
It sounds like the whisper of wind
Over fields of tall grass
And over the still lakes
Before a storm
I whisper back,
Sunlight through the Storm
The singing of birds in the first light of a morning sun
A Song of moving Mountains
And of the heart deep within
Tears
They stream down both our faces
The stony face opens again
But no words escape
Instead it silently calls me here again
"My best friend"
It closes once again
I softly echo the same
The ground below us sprouts new life
And the sky above us tears itself in half,
Light spills through
Though the rain does not stop
I look up into the sky and smile,
And I tighten my hold on his gentle hand,
He's shaking,
He's scared
I'm shaking
Though not to return,
But to go onto something new
Everything has just changed
But the Angel's eyes are warm
Familiar and.... safe
I part my lips,
Dark Angel, it's time you've come home
Come home with me
It's time you've come home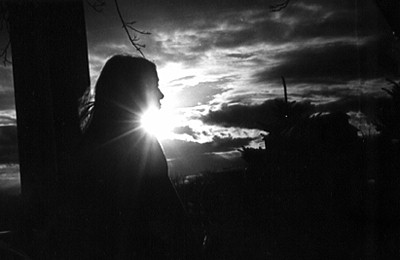 © Elizabeth G., Marblehead, MA