As it spits, it cries
September 30, 2017
As it spits, it cries.
I heard it, alone. As it called me I heard an echo, for I was addressing myself.
The echo in my mind within itself, alone, but never together.
The repetition of the wind in my ears, apart, but never without.
As it was alone, I was as well, but not quite as understood.
Alone to another, may not mean alone to me.
I was never alone. I am never alone. I was apart. I am always, apart.
To be shattered into fractions of sharp shards of a being.
A part I'm not in control of. Another within myself. Being apart, I'm not in control.
We stand divided, as I stand. We stand against each, as I stand.
As I am in the dark, it finds me. For I am never alone.
Antagonized by it, mutually misunderstood, misrepresented, and misheard.
As it spits, it cries, every time.
As it spits it recites beautiful, pure, and whole concepts.
A world I understand as my own. A world never alone. A world always apart.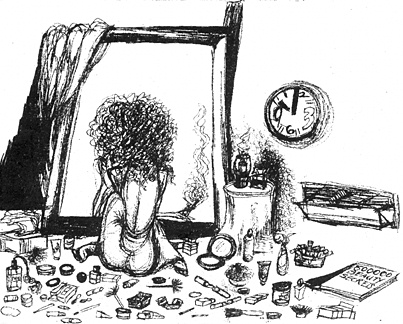 © Asha M., Philadelphia, PA