Honeysuckle
September 28, 2017
I always hated the smell of honeysuckle, it was sickening. The way you can almost taste it in the air where it grows. Or maybe, maybe it was just that I never liked things that were too sweet. Honey in general, was unflattering to my tongue.
My little brother, however, (born my polar opposite) loved honeysuckle so much that he begged my mom to plant some in the backyard. Which she did.

So on the last day of freshman year, I was eager to get to school. Partly because I could feel summer beckoning in the distance, but partly because I wanted to escape the sweet, sticky weed I had grown to hate so much.

My first year of high school had been bittersweet. After a painful adjustment period, I had settled into a routine, done well in my classes, and excelled in extra curriculars.

People say that it's always darkest before the dawn, but actually, it's darkest in the middle of the night (hence, my science teacher, Ms. Lewis.). I always knew there was something off about those so called "words of wisdom." It doesn't really make sense when applied to life either, if you ask me. Sadness comes in waves, not a direct order. I wished everyone would stop pretending that they could predict when their lives would take a turn in the right direction. Of course, I was as guilty of this as everyone else. After middle school, i'll be beautiful. After high school, i'll be successful. After i'm all grown up and married, i'll be happy. But as I was coming to realize, happiness isn't a destination, it's a constant journey. A brutal, long, relentless road that you must travel in the pouring rain. However, sometimes, if you're lucky (like me) someone will come along to hold an umbrella.

That night, my umbrella holders came over to celebrate the end of the school year. What none of us knew, was that we were also celebrating the end of an era. The end of all of us as we knew each other right in that moment.

We crawled under the chain link fence that separates my yard from the farm behind it, and we walked. We just walked. Sometimes we were completely silent, sometimes we sang at the top of our lungs. But no matter what, we just kept walking, as if God had incessantly whispered "just a little bit further."

Eventually we reached an abandoned baseball field, and laid down in the center.

Our heads directly beside one another, we held hands, and for a few moments, we weren't separate bodies. We were one beautiful and infinite beam of light. An exploding supernova in the middle of a small town in Kentucky. I knew that no force on earth could have pulled us apart as tight as we held onto each other that night.

We whispered promises of eternal friendship, ones that we knew we could never truly keep. But they were nice to say, and they were nice to hear.

Most people are afraid to admit that sometimes lies can be just as beautiful as the truth, but not me. That night, I would have preferred those impossible covenants over anything written in stone.

As we walked back home, four blissful souls sewn together, I smelled the honeysuckle… and for the first time in my life, it smelled just fine.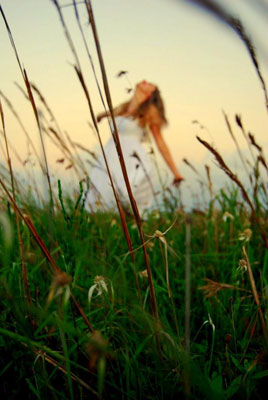 © Richard F., League City, TX