6 Ways to Make Coffee
September 25, 2017
I.
Take steaming hot water
And splash in a few instant coffee pellets
The specks becoming smaller and smaller before
Disappearing into a dark brown
 
II.
Mix with two-percent milk, or
Preferably whole milk, and
Watch the white swirling around the black like
A hurricane, finally settling into brownish-yellow
 
III. 
Add coffee creamer, a perhaps
Richer taste than milk, the business class
Of coffee enhancers
IV.
Obtain a packet of sugar, or even a spoonful of honey, for those
Who prefer natural ingredients. Place in drink
And swirl, seeing the little pieces disintegrate. 
Taste the sweetness.
 
V.
Add a cup of ice to the drink.
Feel the sides of the cup, its sudden coolness, perfect for a hot 
Summer day and avid coffee-loving
Beach boys
 
VI.
Just get plain black coffee.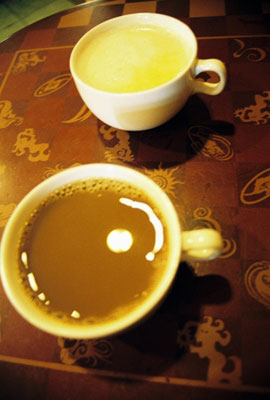 © Jaci S., Duluth, GA