A Royal Concert
September 25, 2017
The stiff trees formed a castle,
Their defined branches formed a crown
The outdoor stage became my throne,
The hollow notes became my decrees

I was queen.

The cellos were bold
The violins were pitched as high as the Empire State building
And us? The viola's were powerful and forte
The bass section was loud, but not as royal as us
The sound of the orchestra was looming, powerful and defined.
The trumpets, the flutes, the clarinets and the oboes; all allies
Creating a bubble of sound, exploding into musical bliss.

A feathery silence
Our bows lifted, the strings about to ring with pure resonance.
Every eye was trained to rest on our suspenseful orchestra
The audience cheered as William-Tell Overture rang throughout the Bartlett Shell.
The melody swiftly floated over the crowd, filling their attentive ears and blossoming into popping color in their minds.
Bright blue,
Sunflower yellow,
Fiery orange
Mint green
With symphony orchestra on our tails, we pushed out of William-Tell and rushed into Overture to Nabucco to commence the concert.
A quiet pause, the conductor lifted his baton,
the tension thick enough to cut with a knife.
Then a thundering explosion of sound and music
descending in a light manner down to the waiting adults and children.
The applause was deafening, the cheers of family and friends was roaring, and all I could feel inside was the happiness of playing my viola.
Stepping off the stage, the pinecones crunched under my feet
The warm smiles of my parents made me glow with pride
I was enveloped in their love and praise.
Yes, I was queen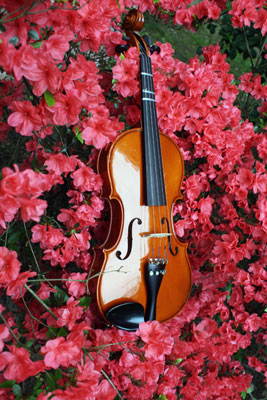 © Bianca A., Damascus, MD