Where I'm From
September 20, 2017
I am from the mud on my clothes, the family get togethers, from
the furry animal sleeping in my bed.
(Soft, dark colored,
cuddly like a stuffed bear.)
I am from the sharp-like
dirt and rock clumps in my shoes that stabbed at my feet.
From the cautious mother, chaos, and curiousness.
I am from the cold red, stoned house at the end of the street,
from all the chin-ups and head-downs.
I am from the chocolate chip cookies that tempted me
(warm, sweet tasting,
rich).
I am from the walks
at the sunrise with Jodi.
From sitting out on the front porch,
looking to my right, seeing the goats, alpacas, and horses.
I am from that holy water that sat in my room,
from the golden cross that dangled from my neck.
I am from the laughs with friends
when we sat at that back porch table during the summer nights.
(Mosquitoes nipping
at our bodies.)
I am from sipping the hundreds of strawberry-banana smoothies,
while staring at the pictures on my walls.
From the smiles and the tears throughout my sixteen years.
But in the end, I am still I am from the mud on my clothes, the family get togethers, from
the furry animal sleeping in my bed.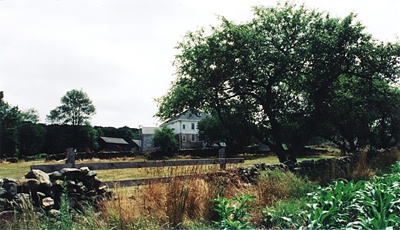 © Elizabeth B., Norwich, CT