Ode to My Glasses
September 17, 2017
The first time I wore them,
My life that was once,
A kaleidoscope of pictures,
Became clear.
I could match voices to faces,
And read the sad,
The happy,
The angry.
I could explore my backyard,
Without moving from my seat.
Experience the little details.
Two windows held together
by a thin metal frame.
casting a perspective that others
inquire about.
Two clear pools of water that
give me the power to control
a world that was once blurred.
Some bring the world closer,
the black ink on the pages of a book,
or the details of a painting.
Others clarify,
the branches of a tree,
or the individual feathers on a bird
my projector screens that
provide a view:
the way a flag blows in a breeze,
flowers flourishing,
the clashing colors of a skunks fur,
the light reflecting in little squares,
on the bottom of the pool.
The glasses perch on
my nose,
a delicate songbird
with the strength of
Atlas, to hold
the wire structure,
the plastic wings,
spread open,
a butterfly in flight.
And the shepherd's crook
wraps around my ear,
gently herding it,
as if it were a baby lamb.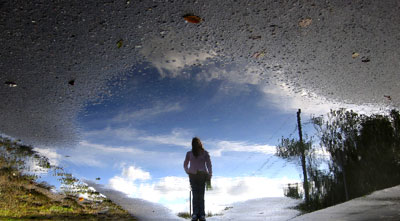 © Daniel H., Oak Bluffs, MA