Inspiration
September 21, 2017
When the sky and the earth
melt together, that is when I go.
I find the worn-out spot, hidden amongst the tall grass:
the weeds flattened,
the milkweed planted last spring,
the thundering flutter of Monarchs as they grow.
The afternoon gold fades
as pale-green twilight takes over.
I find my poem-book, my confidant and closest friend.
As a sculptor surveys
his unbroken slab,
I stare at blank pages until I gain my composure.
Birds' cries wane and the crickets awaken,
that is when your inspiration fills me.
Time passes, I scribble and scratch my words,
gibberish or Latin.
My attitude saddens; my work is done,
Time arrives to sign my anonymity.
Little do you know how,
even now, you complete your life's duty.
Even though the epitaph on your stone reads "Poet,"
what was left unsaid you express
through me each time I visit.
Even after death, you inspire beauty.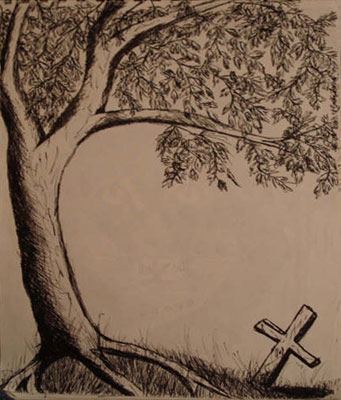 © Courtney K., Bethel Park, PA